Unique Network Crowdloan: Rewards and Bonuses Explained
**Ahead of our Unique Network crowdloan on 14th March, find out everything you need to know about the community rewards and referral process—and the unveiling of MintFest! **
Unique Network!
Ahead of the Unique Network crowdloan on Polkadot next week, 14th March, we're back on the blog to share the community rewards and referral process details. If that wasn't enough to get excited about, we are also formally announcing MintFest, a Unique festival to energise the Quartz creator community.
If you missed the initial announcement, on 14th March, Unique Network will launch our crowdloan campaign to participate in the 3rd batch of Polkadot's parachain slot auctions. Deploying as a parachain on Polkadot will help us access the full interoperability, scalability, and security of the Polkadot Network to continue our mission of enabling composable and advanced features for NFTs and the blockchain industry. A Polkadot crowdloan will help our platform crowdsource the capital required to fund a lease for Unique Network to operate on Polkadot for a fixed period of time. To do this, we will utilise a crowdloan to rally support from our community and raise the capital (DOT) required to lease a parachain!
Find more info on the full crowdloan landing page
**Basic Rewards: Explained ** Up to 150,000,000 UNQ tokens will be allocated for UNQ Rewards for the Crowdloan contributors. The rewards will be determined based on the reward curve shown below.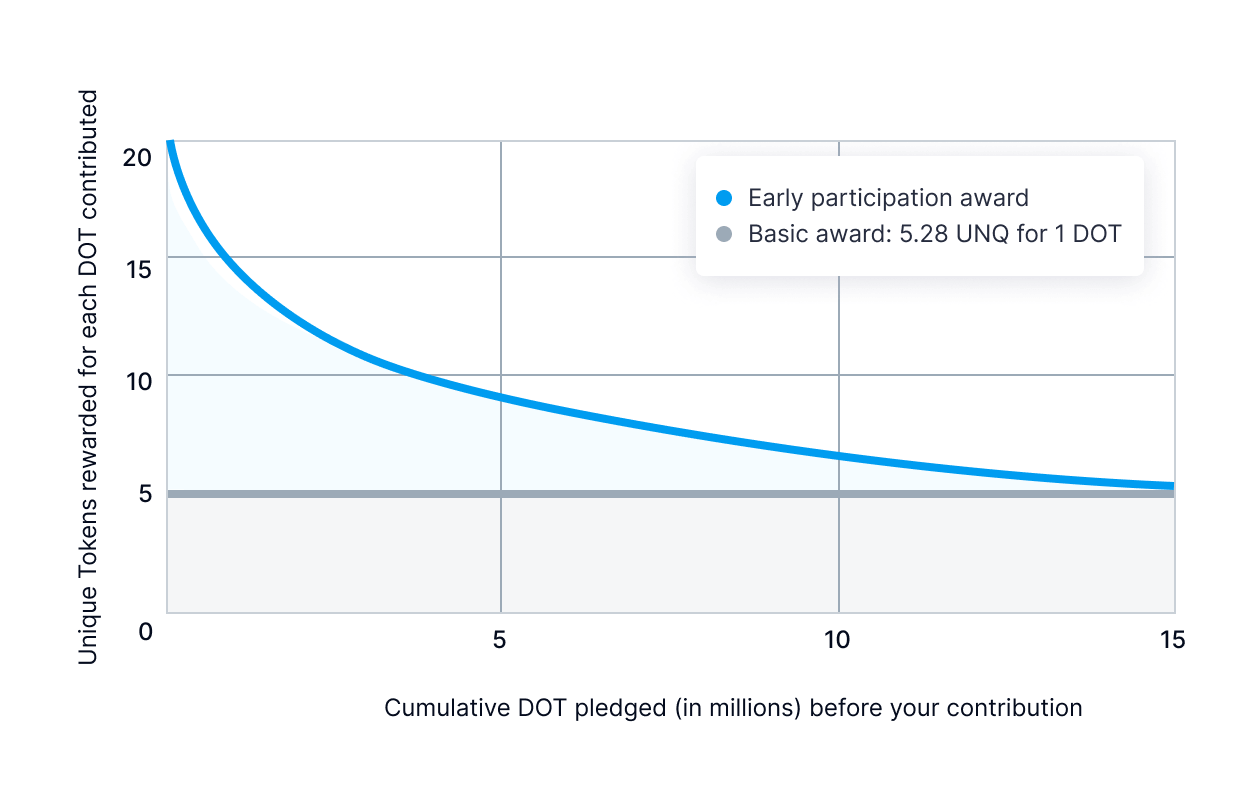 The rewards timeline for the Unique Network crowdloan is the same as it was for the Quartz crowdloan on Kusama Network: the sooner you contribute, the more UNQ you will receive! The first DOT contributed will earn you 20 UNQ, and the last DOT contributed will be rewarded with 5.28 UNQ.
**Community Bonus Rewards **
We always strive to reward our loyal community for their dedication to our platform and mission to unlock unlimited potential for next-generation NFTs. For the Unique crowdloan, we will be rolling out a special community bonus rewards program, which you will qualify for if you fall into the whitelist criteria—resulting in 5% in bonus rewards.
**Whitelist Criteria: **
NFT Holder: You hold a Chelobrick or a Substrapunk in your wallet as of 14th March 2022 at 2 pm UTC.

Polkadot NFT Ambassador Badge Holder: You have a wallet address that received a Polkadot NFT badge.

Quartz Crowdloan Contributor: You contributed KSM to the Quartz Crowdloan and are currently using the Substrate address.

Participated in Unique Token Public sale: You have a "Receiving DOT Address."
To receive additional 5% in bonus rewards, please use any of the above whitelisted addresses to contribute towards the Unique Network Crowdloan.
An important thing to note is that you may have used different formats of your substrate address for above whitelisted activities. You can use this link to convert your address:
https://kusama.subscan.io/tools/ss58_transform
Participate in the MintFest—Get an Extra 5% Bonus
Last month, we unveiled two new NFT tools for Quartz and Opal, the Unique Network testnet: UniqueMinter and UniqueScan. UniqueScan is a new search engine for blockchain and allows users to search for key information. It's currently live via a beta page. UniqueMinter introduced minting on Opal, and is now live on Quartz (Click here). UniqueMinter allows users to create (or mint) their collections and NFTs on Quartz.
To celebrate these new technologies as we near the Unique crowdloan, we're launching MintFest: a festival to energise the Quartz community and NFT creators. Our community is filled with creative minds, and we want to unleash their creativity through new tools, experiences, and access to our platform's latest features!
To participate in MintFest, you will need to mint an NFT collection on UniqueMinter between 14th March 2 pm UTC and the end of the crowdloan.
You must use the same Substrate address (Unique/DOT/Quartz) to mint your collection and contribute to the Unique Network Crowdloan. You can mint your collection either before or after your participation in the crowdloan.
A special MintFest Prize! As a special reward (beyond the 5% bonus for participating in MintFest), top selected tokens will be selected by a special art jury, who will judge the collections on their visual appeal, NFT traits, and description. We will share more details about this soon!
Referral Link Bonus After you contribute to the crowdloan, you will receive a referral link! We encourage you to share this link with your peers. If they contribute using your link, both you and your friend will receive another 5% in bonus rewards (based on their contribution).
Super Supporters Program (SSP) We are grateful to our partners and investors who have committed strong support to our crowdloan.
As a part of the Super Supporters Program, we will give 15% in bonus rewards for 10,000 DOT or more in contributions from one wallet address (multiple transactions are allowed).
A bonus of 30% will be rewarded for 100,000 DOT or more in contribution from one wallet address (again, multiple transactions are allowed).
Note: Super Supporters can participate in MintFest, share/use referral links, or use white-listed addresses, but there will be no additional reward beyond their SSP bonus.
Thanks for reading! We hope this article was helpful in giving you a detailed understanding about rewards and bonuses, as well as informing you on the MintFest! A detailed FAQ is coming soon.
We're at just about one week to go until the Unique crowdoan kicks off. As always, please feel free to reach out to us with any questions on Twitter, Telegram, and Discord.