Bifrost Annual Report | Recapping 2022 & Looking Ahead to 2023
2022 has been a long and difficult year for the crypto industry. 2020's DeFi Summer, 2021's NFT hit, and a market that was riding high came to a screeching halt in 2022. The discussion has moved from All in to sharing bear market hedging guidelines. There is no doubt that winter has arrived in the crypto industry.
In bear markets, developers shift their focus from expanding and capitalizing on the market to the fundamentals of project building. Historically, these times have spurred a solid foundation for projects — like Bifrost's in 2019 — that prove successful despite tough conditions.
It's been three years since Bifrost was founded, and we continue to plow ahead. 2022 has seen us progress in the following crucial areas.
Auctioned Polkadot slots and migrated SALP/SLP main functions to Bifrost-Polkadot parachains.
The SALP protocol is maturing and tending towards self-service operation.
The SLP protocol is officially launched and has been extended to support 6 types of vToken.
Newly established HRMP cross-chain channels with 13 parachains to realize asset interoperability.
Bifrost Network Collator is online, realizing decentralized block collection.
Bifrost Dapp Release 2.0
The first behavioral incentive system on the Bifrost chain, Rainbow Boost, has been launched and has completed four rounds of practice.
Established cooperation and integration relationships with more partners including node merchants, wallet merchants, and ecological projects.
Promote user education through nearly 50 online and offline promotional activities.
NFT Back to Asgard has completed Viking character and equipment design work.
Polkadot Slots
Bifrost's Kusama parachain slot has ended the first lease period , and immediately opened the second lease period;
With the (following our crowdloan launch) voting 403,008 DOT for Bifrost, on April 30, 2022, Bifrost won the 18th Polkadot slot. On September 14, the Bifrost-Polkadot parachain was officially launched.
After sufficient testing and verification, the SLP and SALP businesses have entered a relatively mature stage, and we migrated the main logic of the business from the Kusama parachain to the Polkadot parachain.
SLPs and vTokens
In September, with the implementation of The Merge, the income of ETH nodes became diversified. In October, the revenue model of vETH was updated synchronously. Based on the original verification rewards, GAS revenue and MEV revenue have been added.
Following vETH, in 2022, SLP will successively launch 5 staking derivatives including vKSM, vDOT, vMOVR, vGLMR, and vBNC. SLP is providing Liquid Staking services for more and more PoS chains.
Current mint volume data.
In terms of the governance of the SLP protocol, we began to implement a more intelligent validator election scheme this year. Previously, we elected entrusted validators through parliamentary voting. The new scheme has been further optimized based on the original scheme:
We divide the entrusted node seats into two parts, namely Validator White List (VWL) and Validator Boost List (VBL). The former will be generated according to a set of clear node selection rules, and the latter will be generated through the active application of nodes and community voting Approval occurs. The SLP protocol will only entrust the assets pledged by the user to the nodes in these two Lists.
We plan to launch a governance voting track dedicated to node elections — Validator Election Track (VET) in conjunction with Polkadot OpenGov. Both VWL and VBL need to pass the VET voting process before they can officially take effect. VET is a referendum process, which means that the power that originally belonged to the parliament now belongs to the Bifrost community as a whole.
SALP
The SALP protocol also ushered in a major upgrade in 2022. First, the SALP protocol was migrated to the Bifrost-Polkadot parachain shortly after Bifrost bid for the Polkadot parachain slot. This means that SALP can start supporting auctions for Polkadot parachain projects.
Secondly, in SALP 2.0, we have added the Convert function of vsToken and vsBond, so that the two can be converted into each other in two directions. Compared with vsBond pending order transactions, users can now achieve fast vsBond conversion through SALP's protocol pricing.
Third, with the SALP maturity and slot auctions' normalization, we have started the self-service docking process of SALP parachains. Parachains can self-initiate proposals, apply for access to SALP services, and increase the odds of winning the auction. In 2022, SALP supported 9 Kusama parachains and 7 Polkadot parachains to win slots. They are:
XCM
XCM-based communication is the basis for the realization of Bifrost cross-chain staking derivatives, an integral part of the SLP protocol, and a guarantee for the broader circulation of derivatives created by the SLP/SALP protocol. Therefore, Bifrost has been working hard to promote opening HRMP channels between Bifrost parachains and more parachains. HRMP is a test version of XCMP, which will be replaced by XCMP later.
Bifrost has established HRMP channels with 4 Polkadot parachains and 9 Kusama parachains to support a two-way cross-span of assets.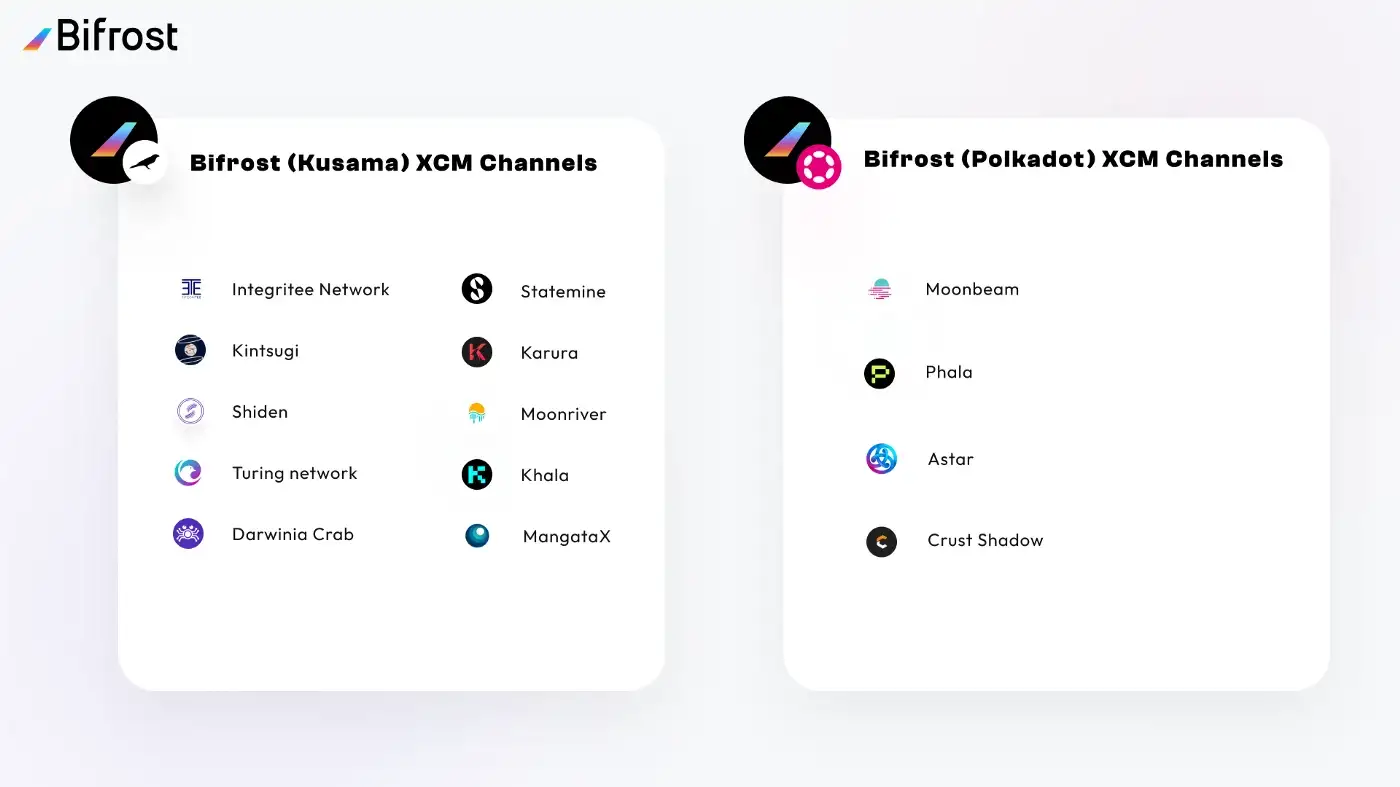 Bifrost Parachain Collator Decentralization
On March 22, Bifrost officially launched the Collator module on the main network and started BNC Staking to realize the decentralization of block collection. The operation cycle of the Collator is 600 blocks, and each round takes about 2 hours. The round is settled once, and the effective time of any operation to increase or release the pledge is calculated according to the round.
In the initial stage of the mainnet Collator launch, Bifrost will open 16 active Collator quotas. As the on-chain network runs stably, Bifrost will gradually release the active Collator quota up to a maximum of 64.
BNC has no inflation mechanism, and Collator rewards are reserved in advance. According to the economic model design, 5% of the total circulation of BNC is used for Collator incentive construction. The total incentive for the first year is 800,000 BNC.
Bifrost Dapp
After the upgrade of Bifrost Dapp, the interface has a new look. The dashboard page layout has been adjusted to display the user's personalized data intuitively. The Farming page display has also been optimized, and the classification and display of information are clearer. The interface of the new version of Dapp is more refreshing, the experience is more natural, and the operation is smoother.
Rainbow Boost
The Rainbow Boost, officially launched in May 2022, is a system that marks, points, and motivates addresses on the Bifrost chain. During the open window period of Rainbow Boost, participants receive Raindrop points and Back to Asgard NFT rewards by completing specific behaviors, like a customer loyalty program of Bifrost.
From May to September, we launched four rounds of Rainbow Boost activities, with more than 10,000 participants cumulatively, and completed the casting of vKSM, equivalent to 138,014 KSM, and vDOT, equivalent to 147,477 DOT.
Cooperation
Safe, high-yield nodes are the goal of our close cooperation. On August 20, Bifrost agreed with Blockdaemon, a high-quality node provider. Blockdaemon is the first Kusama node of SLP after the release of vKSM. On September 7, after the release of vDOT, Bifrost established a long-term partnership with Coinbase Cloud, another high-quality node provider. Establishing cooperation, Coinbase Cloud provides high-quality node services for SLP and facilitates deep liquidity for DOT-vDOT.
Web3.0 wallets are the entrance for most users to participate in Web3.0 services. In 2022, we established cooperation with TokenPocket, MathWallet, NovaWallet, Talisman, Subwallet, and Enkrypt, and they have integrated SLP into their products, to provide users with liquid staking services.
Zenlink is an old partner of Bifrost. Zenlink launched the first Substrate Hybrid AMM Pallet this year, which provides stablecoin trading curves for Substrate assets. Bifrost has integrated Zenlink's related Pallet to support vToken: Token's Swap function.
Activity
Community Call is held every month to inform community partners about the progress of Bifrost and explain related functions. In 2022, we held 10 Community Calls;
Bifrost also participated in 40+ online events such as salons, AMAs, Meetups, and open mics. Among them are the Twitter Space organized by Polkadot ecological partners Zenlink, RMRK, Moonbeam, Subwallet, DFG, and Pendulum, as well as various special discussions held by media partners such as Polkaworld, PolkaWarriors, Polkahaus, and Longhash.
Despite the traveling inconveniences due to the epidemic, the Bifrost team attended various offline gatherings as the main guests, including Token2049, Polkadot Decoded, Polkadot Sub0, DotSama Prague, Berlin Blockchain Week, etc., with footprints in Singapore, Berlin, Prague, Hangzhou, and Lisbon.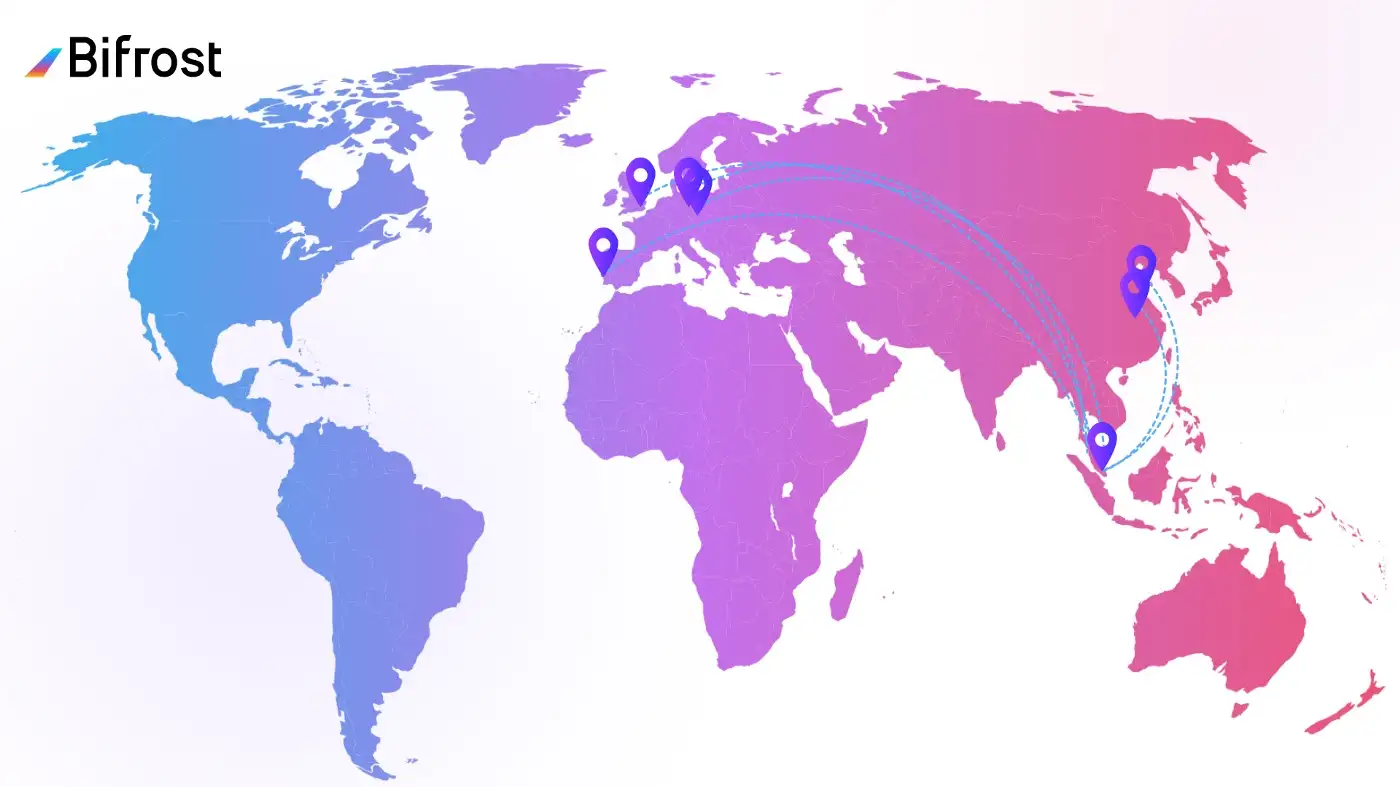 2023 plan
Overall, in 2022, we have largely accomplished our expected goals:
As a Kusama/Polkadot parachain, Bifrost has been running stably for a long time, and its stability has withstood the test of time;
The SALP/SLP protocol has laid a solid foundation and entered the stage of business expansion and cross-chain expansion;
From the launch of Collator to the upgrade of governance, the governance of the Bifrost chain itself is becoming increasingly decentralized;
There are more ecological partners establishing cooperation and integration relationships with Bifrost, and Bifrost is being woven into a large DeFi network and becoming an indispensable part of the network;
We have gradually matured in terms of event promotion and user education, and some successful experiences are becoming normal operations.
Continuing the achievements of 2022, we still have a lot to do in 2023:
SLP
Upgrade vETH
First, the current vETH income is automatically distributed to the holder's address. In the next stage, we will update the vETH contract and settle the vETH income through the minting price increase model, which is consistent with other vTokens. Second, if Ethereum enables the unstake of ETH, we will simultaneously enable the redemption function of vETH.
Third, vETH is an ERC20 native asset. Since there is no trust-minimized bridge between Ethereum and Polkadot, we have never realized the dual-chain asset attribute of vETH. In 2023, we will use a trust-minimized bridge like Snowfork to bridge ERC20 vETH to the Bifrost chain and become Substrate's native asset.
Launch new vToken types
In 2023, we plan to launch six new vToken types: vFIL, vPHA/vKHA, vASTAR/vSDN, and vATOM. In addition, we also plan to develop the Liquid Staking service of Ethereum Layer 2.
Enable System Staking
System Staking refers to using assets in the Bifrost sovereign account to participate in Staking. We plan to start System Staking and subsidize its income to vToken holders to further increase the comprehensive rate of return of vToken.
Support vToken holders to participate in the governance of the original chain
The current SLP version has a problem. When users cast Tokens into vTokens, they virtually lose the governance rights carried by the original Tokens. In 2023, we will establish a governance middle layer to support vToken holders to vote on various governance proposals of the original PoS chain. The SLP protocol will mirror the sovereign original locked token, allowing governance participation.
Building a money market for vTokens
We will build a native vToken mortgage and lending market on the Bifrost chain, further increasing the usage scenarios and capital efficiency of vToken.
Cross-chain bridging
We will use the Substrate Common Bridge to connect the Bifrost-Kusama parachain and the Bifrost-Polkadot parachain.
We will develop a liquidity call interface to support applications on other chains, and call the liquidity of vToken on Bifrost through XCM for collateral liquidation to facilitate the integration of SLP on lending agreements on other chains.
Bifrost will integrate snowfork and open the Bifrost-Ethereum bridge
We plan to integrate a trust-minimized third-party cross-chain bridge and open the Bifrost-Cosmos bridge.
Governance
We will integrate Polkadot's OpenGov Pallet and open the VET governance track to support the election of validators.
We will update Bifrost's governance model, and BNC holders may need to pledge BNC to obtain veBNC to participate in governance.
Others
We will integrate RMRK, support native NFT functions, and officially release the Back to Asgard series of NFTs. The NFTs will be distributed on the Singular NFT platform.
The Bifrost team has updated the 2023 Roadmap plan. Please click the link below for more detailed quarterly plans to inquire.
https://www.notion.so/bifrost-finance/7df6abf2acb54b398df75230e157c7da?v=02ecfe941c5242c3b5f8c77654512b80
Final Thoughts
In this fast-moving time scale, we are working hard to leave deep footprints. In 2023, we will still insist on doing everything well to welcome the new year's transformation. We're humbled by the continued dedication and enthusiasm of our Bifrost community. 2022 was an impressive year, filled with growth and achievements, thanks to our loyal supporters! As we press forward into 2023 full of optimism, positivity, and ambition remain at the forefront in order for us to reach unprecedented heights.