Behind the NFT: Dead Pets Society
The night was still. All felt well until a biting breeze broke through the trees as I approached the cemetery. Suddenly, fear began to crawl up my back and encroach on my mind. What's this doing here? I've been to this cemetery before, and I knew the area well. Peculiar. At this point, the sound of leaves crunching beneath my feet with each step was the only thing keeping me focused. Crunch…crunch…crunch. Just focusing on the sounds. It took effort to prevent myself from giving in to the fear and just bolting. You see, my beloved canary had died after 10 years of incredible memories. I buried him in this cemetery a year ago today, February 25th. I finally got to the cemetery, but something was different. The name had changed. I walked up to the sign at the front and pulled away the brush, it read "Dead Pets Society"
---
On February 25th, Dead Canaries rose out of their coffins and the long-awaited Rising had begun. 450 rose on the day of reckoning. A total of 1,000 are planned for the collection with more being revealed on March 18th. Before we continue, let me take you back to when those undead canaries were still in their coffins.
The initial offering of the coffins stemmed from a familiar idea. Similar to Kanaria eggs, you obtain a coffin with the expectation of your canary rising on the expected date – February 25th. Each coffin cost 1 KSM with rarity randomly generated. As an interesting twist, any trading of purchased coffins irreversibly damages your canary, preventing it from rising on reveal day. These coffins were released in batches of 150 until reveal day and around 450 opened up. Check out a few of these incredible canaries!
Rarity of the canaries is focused on different aspects of the bird. Whether it be a metal beak, a bucket hat, or peculiar feather features. The composition and style of the canaries brings it to life.
Everyone loves a surprise and the team plays off that with the loot-box type reveal. It's exciting that you don't know what you're going to get until reveal day; which isn't over yet. They plan on continuing reveals throughout the year, once every full moon, and the next one is planned for March 18th! Reveal days are referenced by the team as "Rising" events, where unclaimed coffins are airdropped their undead Canary. Every coffin contains one unique canary. Once a coffin is claimed, it will no longer spawn additional canaries from future Rising events.
What sets the project apart is their focus on aesthetics and subculture. Bringing key pieces from their collection to life as tangible, limited edition merchandise and expanding their collection to feature additional dead pets in the near future, the team is teeing up for a handful of promising releases. With large corporations such as Adidas and Nike coming into the space, Dead Canary Club looks like an interesting sub-section of crypto culture on RMRK that's just getting started. Dead Pets Society is growing their community from the ground up with key supporters and organic outreach. It is clear they are already on their way with support of successful artists and collectors within this space and have no plans on slowing down. Let's take some time to get to know the team with a focused interview with Bullish, co-founder of Dead Pets Society.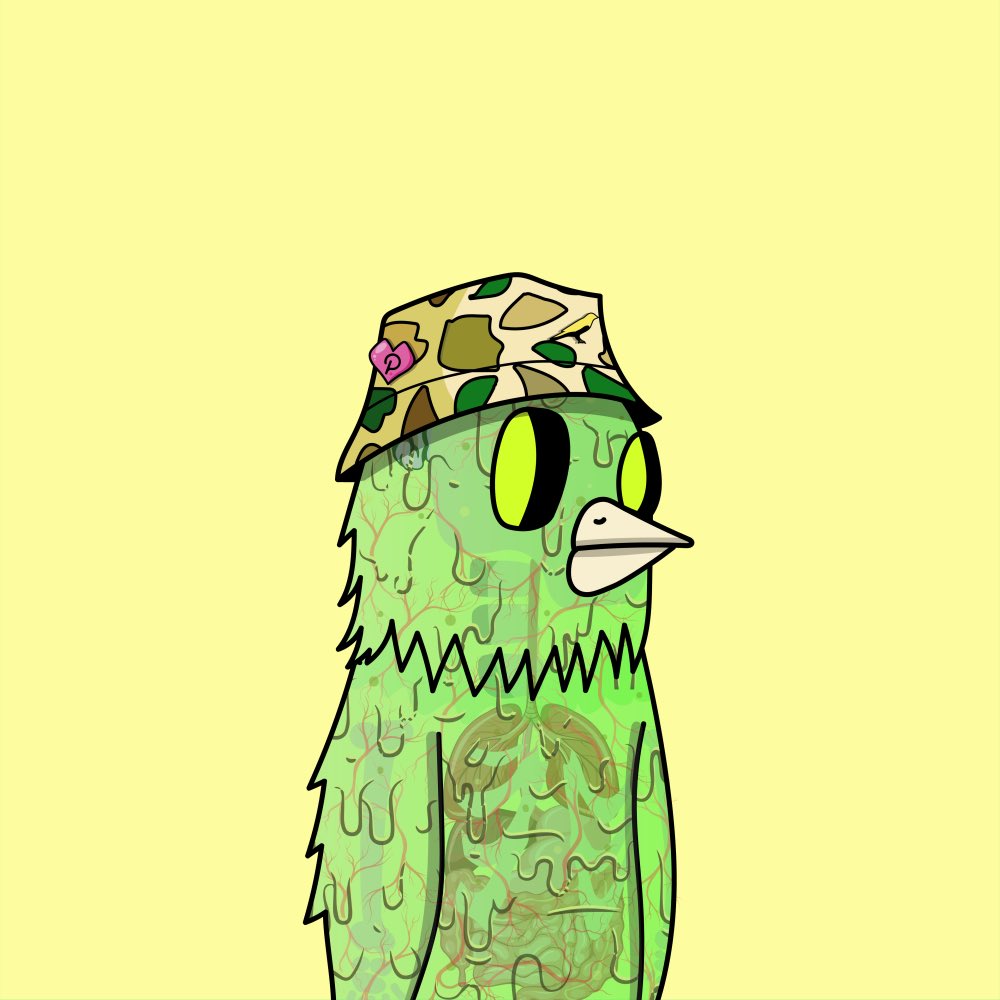 From the Founder
What brought you and your crew to the NFT space?
Dead Canary Club and Dead Pets Society were first created by @Blockchainyeti and I this past January. Yeti is a long time friend of mine and after starting a few NFT ventures of his own, sent me an early design of one of the canaries as a joke. For months I had been telling him to start something on RMRK and this was nothing we both had planned on creating. After that moment, we decided to partner up and bring the project Dead Canary Club to life.
Tell me a little bit about your inspiration for Dead Pets Society, your art is very distinct. Anything specific spark your style?
Dead Pets Society started off as a joke and 90s pop culture was a huge influence for both of us growing up. Yeti himself said he got inspiration for the shape of the canary heads from the ghosts on Pac-Man. We love referencing work from artists such as Pendleton Ward when we're looking for some quirky inspiration.
I see that merch is a part of the package with Dead Pets, care to elaborate on this front?
Dead Pets Society will be the umbrella for our NFT collections as well as our merchandise storefront. This is an untouched space we're VERY excited to navigate. Since Unisocks, there has been little effort in the space to integrate NFTs and apparel. We want to cultivate a culture around our artwork, bridging that with a tangible brand for people to experience and connect over. With our latest announcement, expect us to release a bucket hat lifted from our original artwork collection as well as our Dead Pets Society hoodie (TBA). These pieces will be airdropped and sold as limited edition NFTs that are both claimable (for the real thing) and collectible. Dates for the release will be announced as we solidify timelines from manufacturers. We are not planning on limiting this to only clothing long term.
Any ideas on future pets to feature in the collection?
We have a lot of ideas and don't want to give away too much yet, but we will hint that canaries have a natural enemy that may make it into our upcoming collection. As far as future pets, we have thought of inspiration from underwater curiosities to four legged friends of different origins.
Any last thoughts? (Or any alpha?)
We're excited to announce that our limited edition auctions will begin this March. This is where our imagination will really run wild, expect the unexpected. These will be limited sets of 1/1 canaries outside of the attributes in our collection of 900. They will be auctioned off on our Twitter, announcements will be available soon.
---
This collection brings together unique style, exciting reveals and a focus on culture to set itself apart from the rest. As the project develops, I have little doubt of continued success and will be keeping a close eye on their development.
Follow Dead Pets Society on Twitter to not miss a thing
RMRK Ambassador | Communications Director at Alpha Airdrop | Content Creator at WagMedia
Follow my Subsocial space for more on RMRK, Kusama and Polkadot.